The traditional Luotsi awards were once again given out on Joensuu Day, on Tuesday, November 29 at Teatteriravintola. This year, the awards were given to employers who have boldly employed international talents.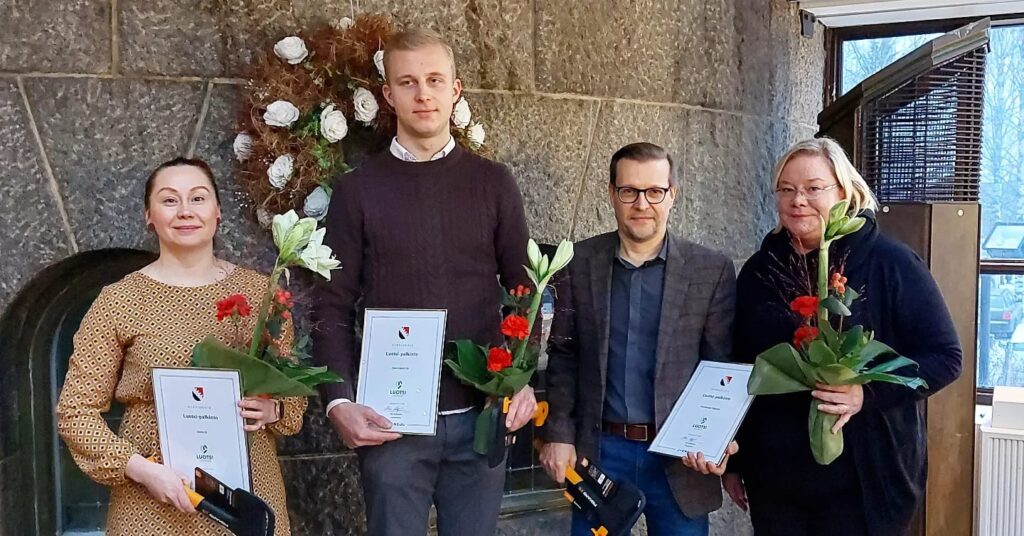 This year, the Joensuu Day Luotsi awards were given to three businesses to thank them for their open-minded and bold employment of immigrants who have applied for temporary protection, and for developing other ways to enable employing international talents even without a common language. The awards were given to Joen Leipurit, Napakka Osk and Alsiva Oy.
Though these employers may have also faced challenges during the process, they were not deterred from their efforts to diversify their workplace community. The businesses have been willing to develop their orientation methods in order to account for limited knowledge of the Finnish language.
"Of course, they occasionally have Google Translate open on their phone, which immediately repeats what I said to them in Ukrainian. That has been a significant help," says Kirsi Härkönen from Napakka.
Härkönen has made an effort to direct the Ukrainian immigrant workers to use Finnish at work as much as possible. This way they will not only learn the language faster, but also make integration easier in other ways.
Alsiva, an Ouneva Group company, has made sure that commute is not an issue for their workers. Carpools have been arranged as needed, since three-shift work is not always accessible with public transportation. A ride was easily arranged for Ukrainian worker Andrii as well, almost from next door.
"Of course, we can also move the work shifts around a little to make sure that carpooling is viable," says supervisor Jukka Simanainen.
Joen Leipurit noticed that there were simply not enough Finns who were interested and motivated to work at their bakery. Their first employees with immigrant backgrounds came from Southeast Asia, from Thailand and the Philippines.
"The Thai workers really didn't want to take breaks. We had to impress on them several times that breaks are mandatory – and we had to actually escort them to breaks. Even then, they wanted to run back to work in the middle of a break," entrepeneur Ville Kokkonen marvels.