The tra­di­tional Luotsi awards were once again given out on Joensuu Day, on Tuesday, November 29 at Teatteriravintola. This year, the awards were given to employ­ers who have boldly employed inter­na­tional tal­ents.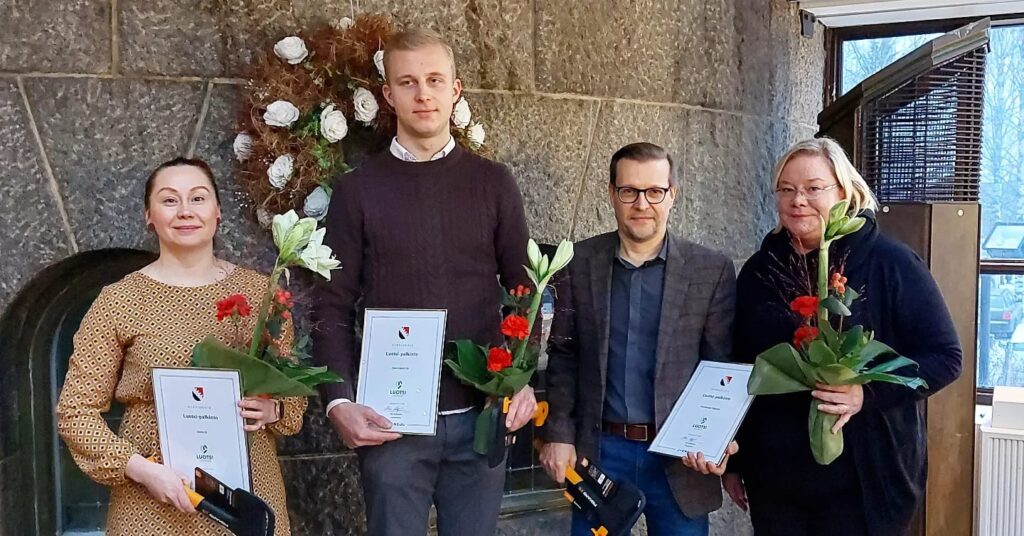 This year, the Joensuu Day Luotsi awards were given to three busi­nesses to thank them for their open-minded and bold employ­ment of immig­rants who have applied for tem­por­ary pro­tec­tion, and for devel­op­ing other ways to enable employ­ing inter­na­tional tal­ents even without a com­mon lan­guage. The awards were given to Joen Leipurit, Napakka Osk and Alsiva Oy.
Though these employ­ers may have also faced chal­lenges dur­ing the pro­cess, they were not deterred from their efforts to diver­sify their work­place com­munity. The busi­nesses have been will­ing to develop their ori­ent­a­tion meth­ods in order to account for lim­ited know­ledge of the Finnish lan­guage.
"Of course, they occa­sion­ally have Google Translate open on their phone, which imme­di­ately repeats what I said to them in Ukrainian. That has been a sig­ni­fic­ant help," says Kirsi Härkönen from Napakka.
Härkönen has made an effort to dir­ect the Ukrainian immig­rant work­ers to use Finnish at work as much as pos­sible. This way they will not only learn the lan­guage faster, but also make integ­ra­tion easier in other ways.
Alsiva, an Ouneva Group com­pany, has made sure that com­mute is not an issue for their work­ers. Carpools have been arranged as needed, since three-shift work is not always access­ible with pub­lic trans­port­a­tion. A ride was eas­ily arranged for Ukrainian worker Andrii as well, almost from next door.
"Of course, we can also move the work shifts around a little to make sure that car­pool­ing is viable," says super­visor Jukka Simanainen.
Joen Leipurit noticed that there were simply not enough Finns who were inter­ested and motiv­ated to work at their bakery. Their first employ­ees with immig­rant back­grounds came from Southeast Asia, from Thailand and the Philippines.
"The Thai work­ers really didn't want to take breaks. We had to impress on them sev­eral times that breaks are man­dat­ory – and we had to actu­ally escort them to breaks. Even then, they wanted to run back to work in the middle of a break," entre­pen­eur Ville Kokkonen mar­vels.