Talent Hub Joensuu visited Lietsu Boutique Aparthotel to interview entrepreneur Maria Saastamoinen. A hotel founded to show North-Karelian hospitality to foreigners, Lietsu has taken full advantage of the help offered by the surrounding community and international talent to become a second home to travellers of all sorts.
In the old cream-coloured postal building in the town centre stands Lietsu Boutique Aparthotel, the brainchild of two steadfast entrepreneurs: Maria Saastamoinen and Helena Puhakka-Tarvainen.  Opened in late 2019 just a few short months before the pandemic hit, Lietsu has since carved out a place for itself as the face of North Karelian hospitality. During its time thus far, it has garnered multiple rewards and attracted multiple foreign employees.
The stated goal of the entrepreneurs was to create a homely lodging service with a regional feel. In the lobby, guests are greeted by warm colours and old wooden furniture. The hotel's 31 rooms has been hand-crafted to reflect the culture, nature and history of North Karelia, each with a specific theme. The atmosphere in Lietsu is almost aggressively cosy. Maria Saastamoinen is the person behind the initial concept. She runs the hotel full-time. Her partner Puhakka-Tarvainen also works outside the hotel, which limits her time at Lietsu.
"The idea was born, when I spent a year and a half renting out a spare bedroom through Airbnb to guests from all over the world", Saastamoinen tells. Interested in cultural exchanges, she primarily advertised to foreign travellers by posting her ad in English only.
"I enjoyed the customer interactions tremendously, especially guests from different cultures, who could stay anywhere from a day to months, and all the encounters and things I could tell about Finland, the region and the city. That got me thinking, "oh, if I could scale this into something bigger and more hotel-like so that something of those cultural exchanges and the feelings of homeliness and hospitality would remain."
Saastamoinen recruited Puhakka-Tarvainen as a partner. Neither had previous experience of working extensively in the hospitality industry, but both had a background in international work. Although a substantial portion of its visitors are natives, international events and the proximity of the border among other factors meant that Lietsu had to be equipped to serve foreign visitors. When the hotel launched in 2019, the two entrepreneurs expected a surge of Russian guests to arrive near the turn of the year. With that in mind, Saastamoinen and Puhakka-Tarvainen sought for Russian-speaking employees, but the first recruitment drive yielded no results.
"We received over eighty applications. We interviewed around ten or so people, but there were no Russian speakers among the eligible applicants. Either that, or the applicants were skilled in Russian, but had no real experience in the field or proof of being able to work in the field. Unfortunately, we could not find a Russian speaking employee on the first round", Saastamoinen explains.
"Nowadays, we're lucky to collaborate closely with local schools, Karelia University of Applied Sciences, and the Riveria vocational school. We've gotten recruits through internships from Karelia and Riveria, after which we've hired employees with Russian skills, cultural competencies and understanding."
Local educational instituations have proved to be  a fruitful source of recruits. Riveria in particular has been very popular with Russians. Three out of eight Lietsu staff members come from a Russian background, and over the course of early 2022 Lietsu has employed several Russian-born interns. The immigrant employees have gotten along swimmingly with the rest of the team despite their limited knowledge of the Finnish language at the start. The rest of team has met its international members halfway, encouraging openness and using a variety of tools to help their international colleagues acclimate to the workplace.
"Take for instance the [international] employee we hired first after their internship. They're a student at Karelia, and they're in fact doing managerial training here in Lietsu. They have been in Finland for a few years now, and their improvement in Finnish has been staggering, and not just during but after the internship as well."
"Of course you have to consider how to express yourself, and I at least have noted a slight difference between how I talk to Finnish versus Russian employees. [With Russians] I might, for instance, use simple sentence structures, shorter sentences and more understandable expressions. We want to avoid misunderstandings", Saastamoinen continues.
Another practical matter came as something of a surprise.
"One thing we noticed over the course of hiring international talent was that it was important for an employer to inform their employee about the rights they have in Finland, meaning labour law, working hours, and employment contracts. They might be a little too inclined to be flexible", Saastamoinen tells. "This one employee had a Sunday shift on the roster, and since it was a more peaceful day, the employee said they don't need to come to work, that they could come on Monday when there's more to do. I'd noticed the same thing, that we had too many employees in relation to guests arriving."
"They asked me if they should come to work or not, and I said, 'of course you'll come'. That's when I realized that they don't know I can't call off their shift on my own volition. The way I worded it was that once given, I can't take their shift away from them, but of course if you ask for it, it's possible for us to change that. We feel it's a part of our social responsibility to remind employees about their rights. Some employers might use the opportunity to take advantage of their employees."
Other differences between the employees have been minor. Saastamoinen has had to encourage her international employees to not be afraid of asking if they do not know something, but the differences are largely personal and temperamental, not cultural.
"Every person is an individual. Take for instance a Finn who's grown up in the country versus a Finn who grew up in a city. Even those are two distinct cultures, and you shouldn't assume people all work the same. A person from a foreign culture could have more in common with a Finn in some things than two native Finns," Saastamoinen sums.
One thing that the Lietsu team had not prepared for was international conflict. When the war in Ukraine started, it came as a shock to Lietsu's staff members. Saastamoinen has done the utmost to make sure her employees are doing fine, lending an ear and making sure the employees know that Lietsu has their backs, should they need a break from work, for instance. With things as heated as they are, Saastamoinen was initially worried that her international employees might face discrimination. Luckily, that has not been the case.
"We've made it very clear that if they experience discrimination here or outside work, they should know they have our support. My worst fear initially was how native Finns might react. Luckily there are around 2000 Russians here and Russian language is something you come across in everyday life."
Business-wise, the conflict has not affected Lietsu, which remains as stable as ever. International talent is vital to the business that has recently hosted foreign sports teams during the Biathlon World Cup and other events. Saastamoinen remains confident that the expertise of its international talents will not go to waste in the future, as Lietsu continues to build new connections abroad.
Finally, when it comes to employing international talent, Saastamoinen acknowledges the challenges, but firmly believes the effort is more than worth it.
"I get it", she says referring to hiring internationals. "We're a small business too, so yes, taking on new interns can be taxing from time to time. Training interns takes time, especially with someone with a foreign background and language difficulties, who requires even more training. But if one out of every five or ten turns out a gem, a truly valuable employee, then it's all worth it."
"It just takes a little courage. There's room in this society for diversity, people from different cultures, and different language families. At the same time, we can show our customers that we're a diverse bunch and that we're all equal here."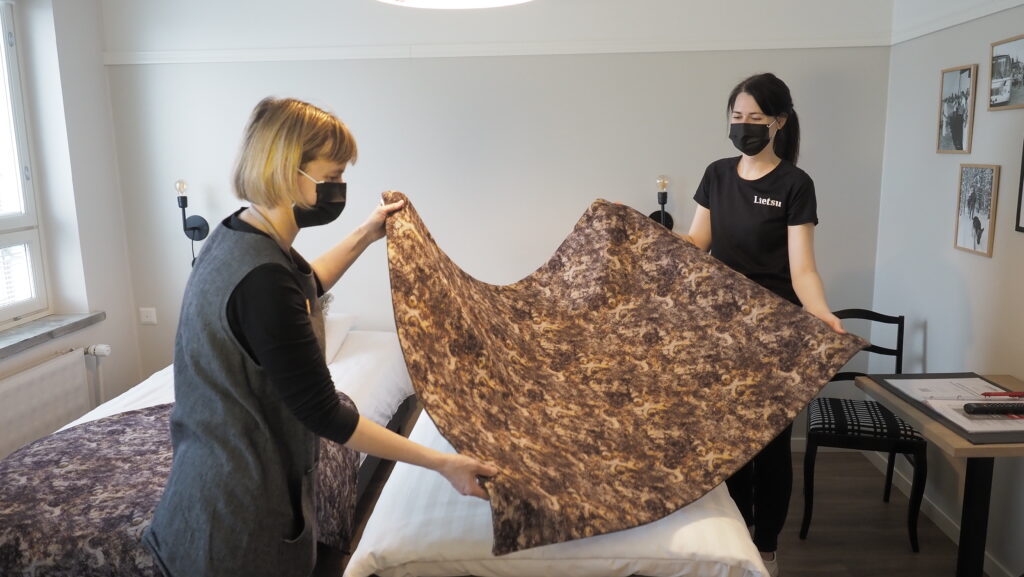 —
We also had a chance to talk with Elena Tinus, one of the international employees at Lietsu, who was happy to present her point-of-view.
"I moved to Joensuu from Petrozavodsk five years ago, and when I moved to Finland, I didn't know any Finnish. Later, I got into Karelia University for Applied Sciences. I had to complete an internship for two courses, which led me to Lietsu, and later I got the job. I'm actually a travel guide by trade", Elena tells.
Like her employers, Elena has led a long and varied career. Elena has studied natural sciences in the Karelian State Pedagogical University, and worked as a laboratory chemist for a decade after graduating. Later on, she studied at the Petrozavodsk University to become a tour guide, and spent nine years guiding tourists, first on the payroll of tourism company Lukomorie, and later the Kizhi State Open Air Museum of History, Architecture and Ethnography. Although her job at Lietsu is her first in hospitality, she already has extensive experience in customer service.
Elena recognises the challenges an international hire might face in the service industry. Nevertheless, her experience in Lietsu has been overwhelmingly positive.
"Lietsu is a very nice place to work in, and we have a really good team here. Sometimes I notice that a colleague might be having trouble communicating with me, because I can't understand something or can't give an elaborate answer, but they're always very friendly."
Elena's job includes tasks such as housekeeping, making and serving breakfast, reception duties and serving the guests, among others. She plans to continue working in hospitality in the future as well. Although there's still room for improvement when it comes to languages, she remains positive, and she feels she can handle customer work.
"I'm anxious about serving customers over the phone, but it's easier face-to-face, of course."
Text: Lauri Vuori