A visit to the Valamis Head Office opens our new series of articles about multicultural workplaces in the Joensuu region.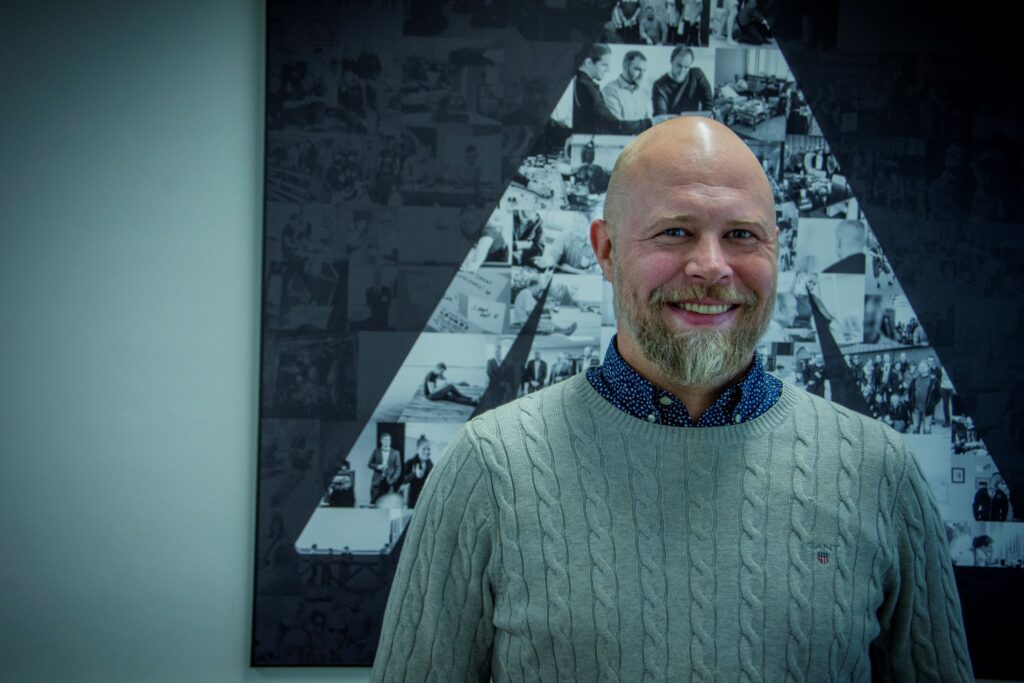 Doors open to reveal the well-kept and sleek main office of Valamis, calm as most of the staff is working remotely.  Jussi Hurskainen, the company's CEO comes to greet us and we settle in his office after a quick photoshoot. Hurskainen appears relaxed and jovial, as he explains more about himself and Valamis. He has been with the company since its founding. 
Valamis conducts business on two fronts. It offers online learning platforms to both businesses and the public sector. Valamis also develops other online data systems for private businesses and governmental organisations. The company enjoys wide international recognition. Its main office sits at the heart of Joensuu, but Valamis also has offices in Russia, the United Kingdom, Germany, the United States, India and the Netherlands. All in all the company employs some 240 people.
"I was just thinking how many Finnish speakers we have. I think we have around 110 native Finnish speakers", says Hurskainen.
According to Hurskainen, Valamis has been very international since its conception. Many of its clients are global enterprises with people and branches across the world.
"The first non-Finnish speaker came to us in 2006, three years after we began. Pretty soon after that we started using English as our working language. The first foreign branch was founded in Petrozavodsk in 2010. Nowadays we operate in seven countries."
Multiculturalism and internationality appear as built-in features of Valamis. "It would be hard to conceive of this business otherwise", Hurskainen chuckles. Hurskainen estimates that the Joensuu main office staff alone must consist of ten or so different nationalities. Altogether, the company employs people from more than twenty nationalities. Branch offices understandably mainly employ local labour, but each office has people from different cultures, and Valamis' routinely moves talent between offices, allowing its employees to mingle without the hassle of dealing with time zones, and allowing its employees to take in different cultures. 
It's hard not to see the benefits of this cultural plurality, when you browse company's website and see the immense backlog of industry awards and client stories from companies and organisations such as the global travel technology company Amadeus, the city of Joensuu and – certainly not last nor the least – NASA. 
"As for the concrete benefits besides the obvious added talent, international hires bring with them the expertise needed to conduct business with different countries."

– Jussi Hurskainen / Valamis Group
Valamis invests a great deal in its employees, and even helps migrant hires to settle in and to get a handle on dealing with Finnish banks and bureaucracy. When asked how their migrant workers have acclimated to the workplace, Hurskainen tells that while there are cultural differences when it comes to, for example, workplace hierarchies, people have gotten along well, and the foreign newcomers have also been flexible. 
"In Joensuu Finns still form the biggest group, and when there are people from many different countries, no cliques have formed, and when international people have come here over the course of years, they have made the effort to get used to how work is done in Finland."
The biggest source for international talent by far is, of course, the local university campus.
"A lot of the applicants are migrants already living in Finland, and we haven't had other applicants from abroad for a while. Covid has of course added restrictions. About half of our interns come from the university or Karelia UAS."
When asked, what companies in Finland could do better to be more multicultural in practice, Hurskainen offers the following:
"The first step is the hardest: hiring that first employee who doesn't speak Finnish. It leads to using more English at the workplace. In the long run, you'll be more prepared to conduct business internationally. I've been pretty open-minded. People are hardworking around the globe. I've never felt that Finns are anything special in that regard."
Text: Lauri Vuori Picture: Stefan De Batselier